NADI ASTROLOGY
Authentic & Oldest Nadi Jyothish Centre @ Katwaria Sarai, New Delhi
Nadi astrology is a divine science practiced in southern India which deciphers the past, present and future of destined humans through the text recorded on palm leaves by Hindu 18 sages/Siddhas - Agasthiyar, Idaikadar, Sattai Nathar, Pathanjali, Konganar, Kuthambai Sithar, Kamalamuni, Vanmikar, Pambatti Sithar, Sundharanadar, Sivavakkiyar, Karuvurar, Thanvanthiri, Macha Muni, Korakkar, Boghar, Thirumular, Ramathevar.
They possessed 8 powers like Anima, Mahima, Lahima, Karima, Prapthy, Pragashiyam, Eshathuvam, Vashithuvam. Using these powers they were able to know about the future by their spiritual knowledge (Gyan) and recorded these visions, i.e. data onto palm leaves in Tamil script.
Nadi leaf of a person is located based on the Thumb impression (Right thumb impression for Men and Left Thumb impression for women). There are 12 Zodiac signs and they are grouped into three: Movable (Chara), Fixed (Sthira) and Dual (Dvisvabhava) signs. There are 150 Nadi's in a sign and each sign is 30 degrees of the zodiac 360. In total there are 1800 Nadis in 360 degrees.
And it is the fact that Nadi astrology is for the destined souls who would seek their leaf on their own accord at the destined hour. If you are such a destined soul seeking your leaf our pandits could help to find it and read your destiny.
Container 1170px
LEGACY OF KNOWLEDGE
Our pandits belong to the Valluvar Family of Tamil Nadu whose ancestors were Nadi astrologers serving the Kings and People of yesteryears. Their knowledge is inherited and passed down through the generations. Now our pandits carry the 60 years legacy of knowledge of Nadi astrology. They are serving people for the last 45 years with two offices in Coimbatore (operating for 45 years) and one in New Delhi (operating with a 27 Years -old office @ Katwaria Sarai, New Delhi).
ACCURATE PREDICTIONS
Nadis are not easy to read as they are written in ancient Tamil and are in poetry form, i.e. in sonnets and couplets. Only expert linguists who have studied this form of astrology over many years can read them. Our pandits have spent a lot of time learning and gained knowledge from the ancestors and now are expert readers of the Nadi leaves thereof their predictions are accurate.
REMEDIAL SOLUTIONS
The past karma of a person can haunt the present and future of the person. The sages have not only predicted but also given a list of remedies/pariharas that will put the person back on a favorable path for a peaceful and successful life. Our pandits will suggest remedies and guide you to get it fullfilled.
Nadi Astrology Online
If you could not make it personally we have an online consultation service available
(Zoom/ Skype/ Whatsapp Call / Telegram / Phone)
APPLY ONLINE
OUR PANDITS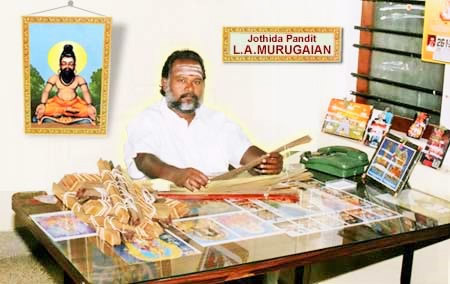 Jyodhida Pandit L. A. MURUGAIAN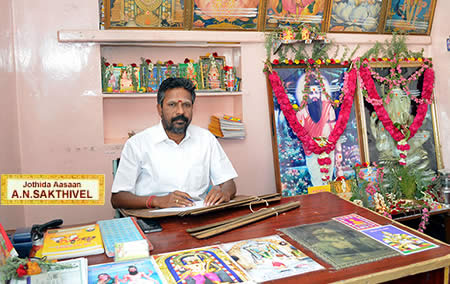 Guruji A.N. SAKTHIVEL
Our pandits are transparent, open, and help you face your future with the right attitude. Our pandits for the last 45 years are spreading the benefits of Nadi astrology in India and have traveled across countries like Dubai, Singapore.
Also, foreigners from countries like the USA, the UK, Australia, Canada, Japan, China, Sri Lanka etc often visit our center in New Delhi.
Now we also provide online consultation services where people can get benefited from Zoom, Skype call, Whatsapp Call, Phone Call, etc.